Second union ballots on London Underground strike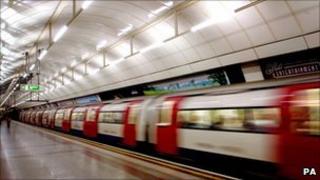 The threat of a huge strike on London Underground (LU) has increased after a second union said it is to ballot its members.
The Transport Salaried Staffs Association (TSSA) said 1,000 members will vote over plans to cuts 800 posts.
It said it would co-ordinate action with the Rail, Maritime and Transport (RMT) union who is balloting all 10,000 members on the Tube on the same issue.
LU said it wants to deliver the changes with no compulsory redundancies.
TSSA said booking clerks and managers will vote in the next few weeks, warning that any strikes would start in early September, as schools reopened after the summer holidays.
Suburbs hit
General secretary Gerry Doherty said the cuts would hit overground stations in the suburbs, harder than those in the inner city.
"The irony of all this for [London Mayor] Boris [Johnson] is he is having to hit the Tory heartlands the hardest to make cuts that are being imposed on him by George Osborne at the Treasury," he said.
He added: "We need fully staffed stations to protect the public, particularly women and the elderly, who feel very vulnerable when travelling late at night."
The RMT said the closures will compromise safety.
'Committed to changes'
LU's Howard Collins said: "We have assured staff and customers that all of our stations will continue to be staffed at all times while trains are operating and all stations with a ticket office will continue to have one.
"However, in the same way that people no longer use their bank branch to cash cheques, the Oyster technology rolled out across Transport for London means that only 1 in 20 journeys involve any interaction at a ticket office window.
"What we are seeking to do is deploy staff more visibly in stations where they can more easily assist passengers.
"We are committed to delivering these changes with no compulsory redundancies."
The RMT ballot ends on 11 August and the TSSA one seven days later.