Technical problems hit new Victoria Line Tube trains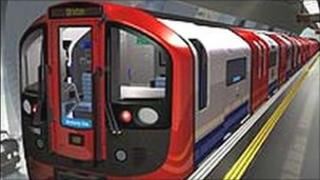 New trains on the Victoria Line on London Underground (LU) have been hit by technical problems, Transport for London (TfL) has admitted.
The latest disruption on Monday saw a new train break down for 60 minutes during the morning rush hour at Oxford Circus.
On 21 July, about 3,000 passengers were trapped when another train broke down.
TfL said there would be better journeys once the line moved to new signalling equipment and tracks by 2012.
The new fleet of trains, part of a £90m upgrade of the Victoria Line, began operating from July 2009.
Hours of testing
TfL promised passengers a "smoother, more comfortable ride, with more frequent trains, a reduction in journey times" and more capacity.
But the problems have been caused by computer software failures and from over-sensitive sensors, which stop the trains when passengers lean against doors.
The new trains have in-carriage CCTV, improved wheelchair access, better ventilation and improved visual and audio customer information systems.
At the time of their launch, Richard Parry, LU's managing director, said the trains had "undergone hundreds of hours of testing and are now ready to run".
On the latest disruptions, a TfL spokesperson said: "The Victoria Line was suspended for around an hour on Monday morning due to a faulty train at Oxford Circus station.
"The Victoria Line is undergoing a complete renewal and this includes the introduction of new trains.
Technical issues
"There have been some technical issues with the new trains but we are working hard to rectify these initial faults.
"Once the upgrade is finished in 2012 the new track and signalling will mean faster, smoother and more reliable journeys for our customers."
On the technical problems, she added: "During any changeover to new trains and/or signalling systems, the reliability will be expected to grow over time."
Connor Kinnear, who founded a website just over a month ago which helps people claim for journeys on the Tube if they are delayed, said: "We have seen a huge rise, especially this week, both in the number of refund claims made against the Victoria Line and also the number of new users registering to the site."