Plea to help as London's small shops shut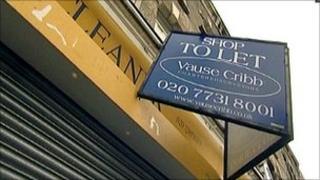 About 7,000 small or independent shops closed in the capital in the past 10 years, according to a London Assembly report.
The report, called Cornered Shops, says councils should be given more powers under the planning system to help them.
It also says the growth of supermarket chains has put extra pressure on small high street shops.
The Federation of Small Businesses said urgent action was needed or there would not be an independent retail sector.
The report says: "Along with the economic downturn, the rise of the big supermarkets and their move into 'local format' stores, like 'Tesco Metro' and 'Sainsbury's Local', has also contributed to the loss of smaller retailers.
"The big four supermarkets now account for three-quarters of the grocery market and around four-in-five independent shops say the biggest threat they face is supermarkets."
The report calls on the mayor of London to make changes to his London Plan - the planning development strategy - to strengthen protection for local shops and give boroughs more power to resist or negotiate on applications from big retailers.
It also wants give local authorities the power to stop essential shops, such as greengrocers and butchers, changing to outlets like internet cafes and betting shops without planning permission.
Deputy chairwoman of the planning and housing committee, Jenny Jones AM, said: "People in residential areas need local shops that provide essential services that they can walk to.
"They do not need rows of betting shops and internet cafes, or to have to travel to supermarkets by car."
Nick Winch, London policy manager for the Federation of Small Businesses, claims more than 1,000 independent or family-run shops close every year in London.
"Unless we take urgent action, there will no longer be an independent retail sector," he said.
"This report highlights the need for all Londoners - customers, shop owners and local government - to ensure that we can all continue to enjoy the good service, products and value which local shops can provide to their communities."
Tom Ironside, from the British Retail Consortium, which represents supermarkets, said the latest figures show 5.6% increase in independent retail stores in a year.
"Ultimately all the power in retailing rests with customers," he added.
He added: "What's really needed is concrete action to support local trading environments.
"This includes improving parking and giving more priority to tackle all forms of retail crime, as highlighted in our 21st Century High Streets report."