Designer deckchairs to grace London's Royal Parks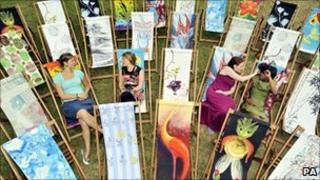 Artwork has been released that will feature on 700 deckchairs in London's Royal Parks this summer.
People will be able to rent out the deckchairs in five London parks. The chairs will be available from to buy from 9 August.
The designs will also be on display at a pavilion in Shanghai Botanical Gardens in China.
They have been created by people such as hat designer Philip Treacy, cartoonists and illustrators.
Royal Parks Foundation chief Sara Lom said it was "wonderful to partner with Shanghai" in the project.
The foundation has been running the project annually in London's royal parks since 2006.
This year's artists have incorporated the theme of seeds into their deckchair designs with UK artist Rob Kesseler leading the pack with his picture of a Chinese warrior made from magnified, coloured seed and pollen grains.
Hat design
Meanwhile, hat designer Treacy designed a deckchair which features a painting of model Linda Evangelista sporting one of his hats.
Cartoonist Ronald Searle, Disney illustrator Alex Williams and wildlife sculptor Simon Gudgeon are among some of the other UK artists who have designed deckchairs.
The 700 deckchairs will be available to rent in Kensington Gardens, Hyde Park, Green Park, St James Park, Regents Park.
The Royal Parks Foundation is also running an education programme, where children from five schools will be allowed to create their own designs.
The winning design from each participating school will join the collection.