Support for 2012 Olympics 'grows' among Londoners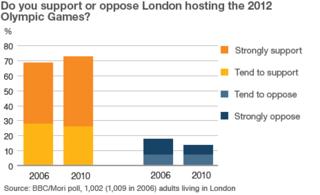 Londoners are more supportive of the 2012 Olympics being held in the city than four years ago, figures show.
The BBC London poll also found almost one in three people felt more positive about the Games now than in 2005, while 54% had not changed their views.
But more than half of Londoners had concerns that the transport system would not be able to cope very well.
The research, carried out by Ipsos Mori, was released to coincide with the two-year countdown to the Games.
Earlier this month the market research firm contacted 1,000 people, aged 17 and above and living in London, and asked identical questions to a survey carried out in November 2006.
Of those asked 73% said they were in support of London hosting the sporting event compared with 69% four years ago.
Former Olympics minister Tessa Jowell said she was delighted the level of support was rising but that this confidence should be taken, and earnt, "day by day".
She said there should be a growing sense that these games "belong to Londoners, that they have got a really important part to play in making them a great success".
The figures also showed the number of people who thought the government and London's mayor were doing a good job of preparing for 2012 had risen from 45% to 65%.
And while almost half of Londoners (45%) said the 2012 Olympics did not represent good value for money, three quarters said spending should not be cut.
But Olympic minister Hugh Robertson said he could not offer a guarantee that the budget, which is subject to a current review, would not be cut.
He said that given the national mood and the economic situation it was important to be "sensible and realistic" about costing.
With the Games expected to bring up to a million people into the city, 55% of those questioned said they did not think the city's transport infrastructure would cope very well with extra passengers.
But Richard Parry, from London Underground, said: "We are focused very much on 2012 being at a point that the transport system will be reliable, high capacity, focused on the east of London particularly.
"We are absolutely going to be ready in 2012 to provide the world class service the world will expect when the Olympics comes to London."
And as people from around the world descend on the city about one in 12 Londoners (8%) said they were planning to leave the city to avoid the Olympics - which could amount to about half-a-million people.