London Docklands Light Railway strikes called off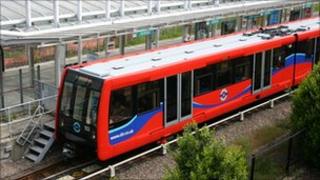 The Rail, Maritime and Transport (RMT) union has called off a series of planned strikes on Docklands Light Railway (DLR) over a pay row.
The decision to suspend two 24-hour strikes comes after operator Serco Docklands put forward a new offer.
It has promised train staff a £600 one-off payment for the introduction of longer trains.
The union had wanted more pay for staff saying their workload had increased after the addition of a third carriage.
DLR staff had been due to walk out on Friday 27 July and again on 6 August.
David Godley, Managing Director of Serco Docklands, said: "Our offer states that each passenger service agent will receive a £600 one-off payment for the introduction of longer trains and the union has given a commitment to implement a number of efficiency measures in October following further consultation.
"We are pleased that we have been able to minimise disruption to our passengers and we remain committed to continuing future improvements for our passengers on the DLR."
RMT General Secretary Bob Crow said: "Our members on the Docklands Light Railway have stood firm and delivered an overwhelming mandate for action which has enabled us to negotiate this new and improved offer from a position of strength."