Five men jailed for Oxford Street smash-and-grab raid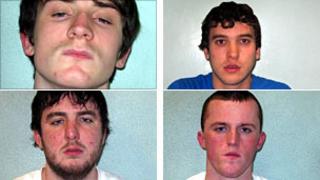 Five men have been jailed for their part in a smash-and-grab raid in which £325,000 worth of designer watches were stolen in central London.
The men approached the Ernest Jones shop on Oxford Street on motorbikes and used sledgehammers to smash the windows just before the store was due to open on 5 September 2009.
A haul of 46 watches, including some made by Rolex and Breitling, were taken in the two-minute raid.
All five men pleaded guilty to robbery.
The five jailed at Southwark Crown Court were:
Anthony Michael Leader, 20, of Sidmouth Street, central London, was jailed for four years
Mathew Pitt, 26, of Fleet Road, Hampstead, north-west London, was jailed for six years
Reed Roberts, 19, of Cubitt Street, central London, was jailed for four years
Craig Wallace, 22, of Sussex Way, Archway, north London, was jailed for six years
Kether Whatley, 23, of Clock View Crescent, Islington, north London, was jailed for five years, with a further one year sentence, to run consecutively, for handling stolen goods from a separate robbery