Consultants worried about supplies at London NHS trust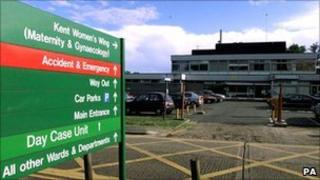 Essential medical supplies have been lacking at one of London's NHS trusts while too many operations are being cancelled, senior clinicians have said.
Staff at South London Healthcare Trust have been "raising concerns over clinical safety issues" and matters such as in adequate bed linen.
Their local MP, James Brokenshire, has reported their fears to a regulator.
The trust acknowledged problems but stressed it was "on an improvement journey" to make its services better.
The South London Healthcare Trust covers Bexley, Bromley and Greenwich and was formed last year with the merger of three smaller organisations: Queen Mary's Sidcup NHS Trust, Queen Elizabeth Hospital NHS Trust and Bromley Hospitals NHS Trust.
More than a million people fall into its catchment area and it has about 6,000 employees.
'Positive progress'
James Brokenshire, the Conservative MP for Old Bexley and Sidcup, said he had met senior staff at the trust over the past three weeks and listened to their concerns.
He said he had informed the Care Quality Commission, which is responsible for the safety and quality of health services in England, about these issues "to gain assurances externally that the trust was meeting clinical standards".
The commission can carry out formal investigations when concerns are expressed and enforce changes if necessary.
The trust's spokesman said problems over the ordering of medical supplies "have now been resolved", while "positive progress" was being made internally.
And while staff faced "real challenges", he added, they were "getting to grips with the issues around quality, safety and financial management".