Tower safety register is launched in Southwark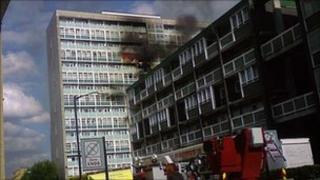 A council has published a full list of tower blocks that have fire risk assessments in place.
Southwark was the place where the Lakanal House fire in 2009 killed six. It then emerged it had no legally-required fire risk assessment.
In the following months, BBC London learned more than 300 blocks across London were in the same position.
Southwark Council Deputy leader Ian Wingfield said: "Residents have a right to know if their home is safe."
After the Lakanal fire both the London Fire Brigade and Department for Communities and Local Government had said it was not their job to check authorities were carrying out fire risk assessments.
Southwark Council, which says all its blocks - almost 3,000 - have now been assessed, hopes the new register will allow residents to check for themselves.
Mr Wingfield said: "With this register we give every resident the chance to make sure their block has an up-to-date fire risk assessment.
"With a click of a button they can also request a copy of the report.
"They can see what, if any, risks have been found and what work is being done to address them."