Killers jailed for murders of London chef and flatmate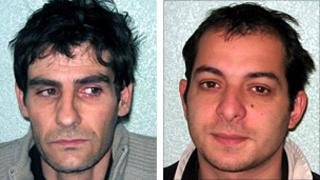 Two men must each serve at least 33 years in prison after being jailed for life for murdering a Scottish chef and his Italian flatmate in south London.
The bodies of Donald MacPherson, 60, and Luciano Schiano, 49, were found in Summersell House, West Norwood.
Claudio Lamponi, 30, of Norwood, and Massimo Manai, 41, of Sardinia, Italy, were convicted at the Old Bailey.
Mr Schiano was targeted for making a pass at Manai's girlfriend but chef Mr MacPherson just happened to be home.
'Merciless executions'
The court heard that the killers targeted Mr Schiano after he "unwisely made a pass" at Manai's girlfriend in August. Manai, who has no fixed address in the UK, had then headbutted the victim.
But Mr MacPherson, who worked at the Reform Club in Pall Mall, was an innocent victim who had been lodging at the flat for some time and was not known to the killers.
Judge Richard Hone told the pair that the sentence reflected the seriousness of their "evil deeds".
He added: "This was a cold-blooded and remorseless murder. First your compatriot and then an innocent man in his bed - in the wrong place at the wrong time.
"It must have been a horrific ordeal. The injuries to Mr MacPherson beggar description.
"It was a gratuitous and needless murder of a man who had been sleeping in bed. These were two merciless executions."
Mr Schiano, who suffered 26 knife wounds, was "caught unawares and perhaps even watching television," the jury heard.
Mr MacPherson, originally from Clydebank, near Glasgow, was attacked in his bed and had his face smashed with a clothes iron when he resisted. He suffered 80 injuries.
The attack on him was particularly brutal as the killers wanted to silence the father of four, the court heard.
'Never forgotten'
Mark Heywood QC, prosecuting, told the court: "Not only was he stabbed but he was bludgeoned to the face with a clothes iron.
"The force with which it was swung was so great that not only were the bones of his face broken but also the iron itself was broken, bloodied, and left behind."
Following the conviction on Wednesday Mr MacPherson's daughter Manda who found the bodies along with her 16-year-old daughter said: "People do not go to bed to be slaughtered by two maniacs.
"This will be with my daughter forever - being 16 and finding your beloved granddad dead in bed."
"Unfortunately, no length of sentence will reflect the loss to our family as our father was a much-loved dad and grandad who is missed and will never be forgotten."