London fox attack twins 'recovering really well'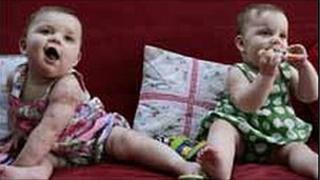 The mother of baby twins attacked by a fox in their cots has said she has been "astounded by their resilience".
Pauline Koupparis said nine-month-old Isabella and Lola are recovering "really well" now they have returned home from hospital.
The sisters were sleeping when they were mauled at their home in Hackney, east London, on 5 June.
In a letter to BBC London 94.9FM presenter Vanessa Feltz, she said the family are having counselling.
She added: "Life has more normality now which is just the tonic.
More clingy
"The girls are doing really well. Both are back to normal in terms of their behaviour, a little more clingy perhaps but children's resilience astounds me.
"Lola's face is healing incredibly, Isabella's arm is not so great but am sure in time will get better."
Both girls were taken to the Royal London Hospital where they were given antibiotics and underwent surgery.
In the letter, Mrs Koupparis added that her five-year-old son Max has made potions to ward off foxes from their home.
She said he has also been keeping a toy knight's sword at the top of the stairs "just in case he needs to fight a fox".
Mrs Koupparis called into the Vanessa Feltz show days after the fox attack.