Nathan Hunt death: Father vows to fight for memorial recognition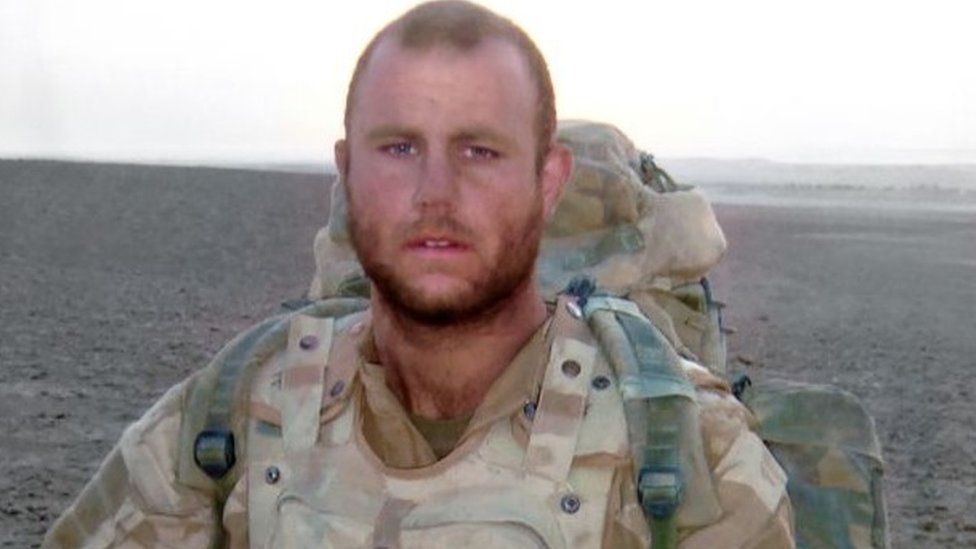 The father of a soldier who took his own life has vowed to continue to fight to get his son's name engraved on the Armed Forces memorial.
Warrant Officer Nathan Hunt, 39, was found dead at his Lincoln home on 2 January 2018.
An inquest heard the father-of-one had been diagnosed with mental health issues linked to combat stress.
An MOD spokesperson said a decision not to include someone on the memorial "did not detract from their service."
But his father Derek said his bid was rejected due to him not being able to provide a direct link between Nathan's military service and his mental health.
The memorial, at The National Arboretum in Staffordshire, recognises more than 16,000 personnel who have given their lives in service since the end of the Second World War.
Just four names commemorate soldiers who took their own lives.
Mr Hunt said there should be no distinction between those who lost their lives in battle and those who lost their lives because of battle.
Nathan served with Prince Harry in Helmand Province in 2008 after being attached to the Household Calvary.
He was part of a desert reconnaissance unit, which was involved in identifying roadside bombs planted by the Taliban, and was awarded a Mention in Dispatches for his courage.
Mr Hunt said Nathan, who was also given a military funeral at Lincoln Cathedral, had given his life to the Army after joining at the age of 16, adding: "It was all he ever wanted to do."
Mr Hunt believes his son was suffering from Post-Traumatic Stress Disorder (PTSD) as a result of what he experienced on the battlefield, including dealing with the aftermath of a rocket attack on a compound in Afghanistan.
"Nathan and his mate had to go back and try and treat the dying," he said.
However, Coroner Paul Smith said he could not be sure beyond doubt Nathan had intended to take his own life.
Mr Hunt, who was himself a career soldier, has campaigned for two years to have his son's name engraved on the memorial wall, something he said Nathan would "want him to keep fighting for".
"Not only for them, but for other families in the same position," he said.
"It will be somewhere his daughter, when we've long gone, can have a place of reflection," he added.
In a statement, a spokesperson for the MOD said: "Every suicide is a tragedy and deeply felt within the defence community [and] our thoughts remain with the family and friends of those affected.
"An experienced panel gives careful consideration to each case and the decision not to include someone on the Armed Forces Memorial does not detract from their service," they added.
Related Internet Links
The BBC is not responsible for the content of external sites.