Scampton Church: Donations needed for Dambusters window project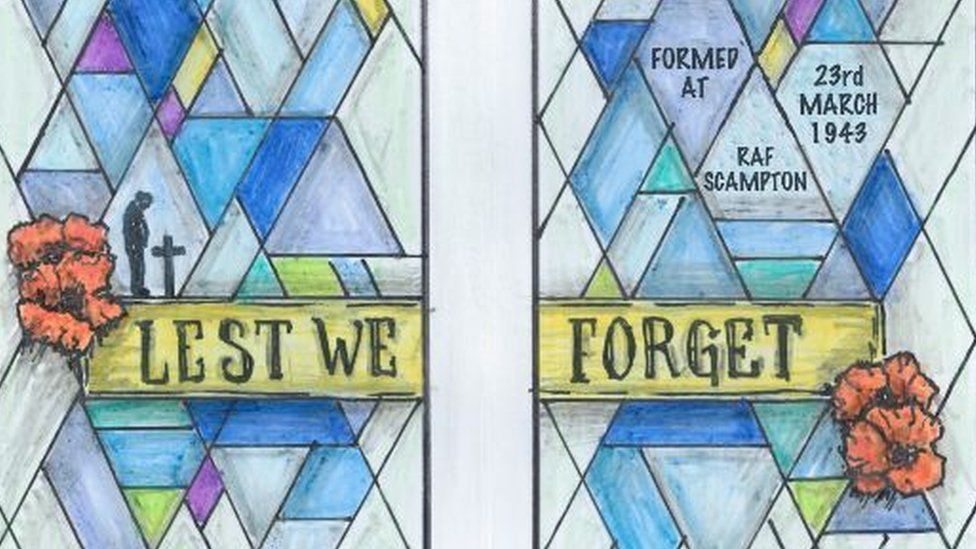 More donations are needed for a project to create a stained glass window commemorating the Dambusters, fundraisers have said.
Scampton Church wants to install the window to mark next year's 80th anniversary of the founding of 617 Squadron at RAF Scampton in 1943.
Joe Bartrop, project coordinator, said they were about £2,000 short of the £18,000 needed.
He said the window would be a "meaningful tribute".
Mr Bartrop said they had already received a number of donations from RAF heritage organisations and businesses in the area, and were "very nearly there" in reaching the target.
Plans are also in place to create an RAF war grave heritage centre at the church, he said.
Mr Bartrop said it was "important" to pass on the meaning of remembrance to future generations.
The Dambusters, which carried out the "bouncing bomb" attacks on German dams, were officially formed at RAF Scampton on the 23 March 1943.
"When you think of that daring raid that took place in May 1943, the courage of those airmen, and you think about the number of aircraft that actually didn't return - it is something we should never forget," Mr Bartrop said.
"It is so important we remember, not just 617 Squadron, but all the squadrons that served at RAF Scampton," he added.
The new window has been commissioned from glass-artist Claire Williamson, who also designed an existing commemorative window at the church.
It features the squadron's badge and bomber command badge and representations of the spotlights fitted to planes to help ensure they were at the correct height before releasing their bombs.
It also includes three silhouettes of Lancaster bombers and an airman with a bowed head.
Related Internet Links
The BBC is not responsible for the content of external sites.