Colin Furze: YouTuber allowed to build tunnel under garden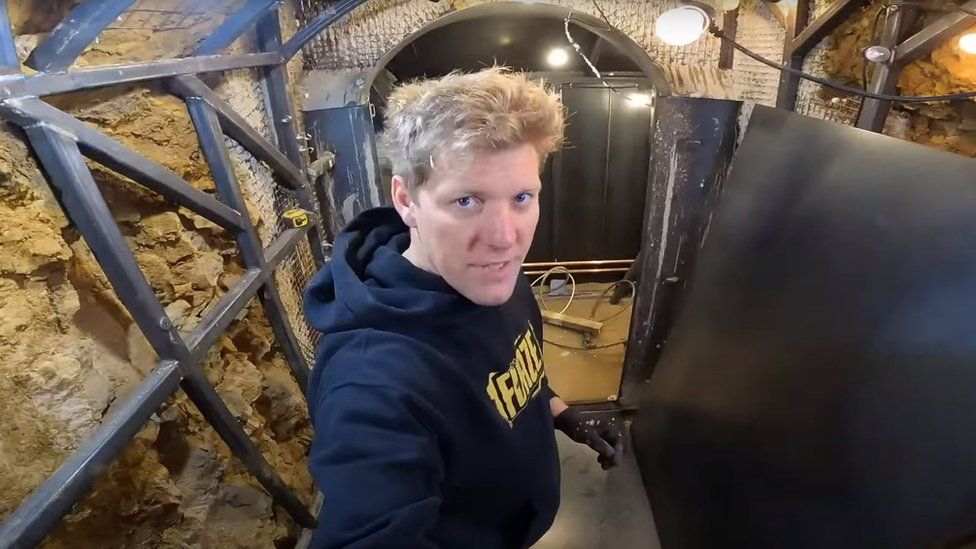 A YouTuber has won retrospective planning permission to burrow a tunnel between his house and shed.
Colin Furze spent three years digging the passage by hand under his Lincolnshire garden without permission.
The subterranean structure lies 1.2m (4ft) beneath the surface and could eventually also connect to a special underground bunker he has built.
Mr Furze, from Stamford, said he wanted to do it because he thought "it would be cool".
Planning documents from South Kesteven District Council show the bunker was granted permission eight years ago.
However, tunnels to connect his house, shed and bunker did not have permission.
"The proposal is partially retrospective with a large portion of the tunnelling works having been carried out," the document stated.
Mr Furze has been documenting his progress to his 12 million YouTube followers after beginning the tunnelling project in November 2018.
Initially, the tunnel was a secret but millions have since watched his exploits, with the tunnel currently connecting his kitchen pantry with his shed.
He said the response had been positive, adding: "If you ask people about tunnels, they love them".
"I thought wouldn't it be amazing if I could get to the bunker without having to walk down the path outside?" he said.
He said the next part of his plans will see a digger used to connect the shed with the bunker - a distance of about 15m (49 ft) - providing further planning permission is granted.
The tunnel has been built in stages which has included lighting, ventilation shafts and a track to help move soil away.
A planning inspector visited after the plans were shared widely on Facebook, bringing the project to the attention of the council.
The parish council strongly objected to the plans which it said would cause concern regarding health and safety and subsidence.
A condition was added to the granting of permission that further work was subject to the "ground and constructions structural integrity being investigated".
Related Internet Links
The BBC is not responsible for the content of external sites.