Margaret Thatcher statue egg throwing condemned by university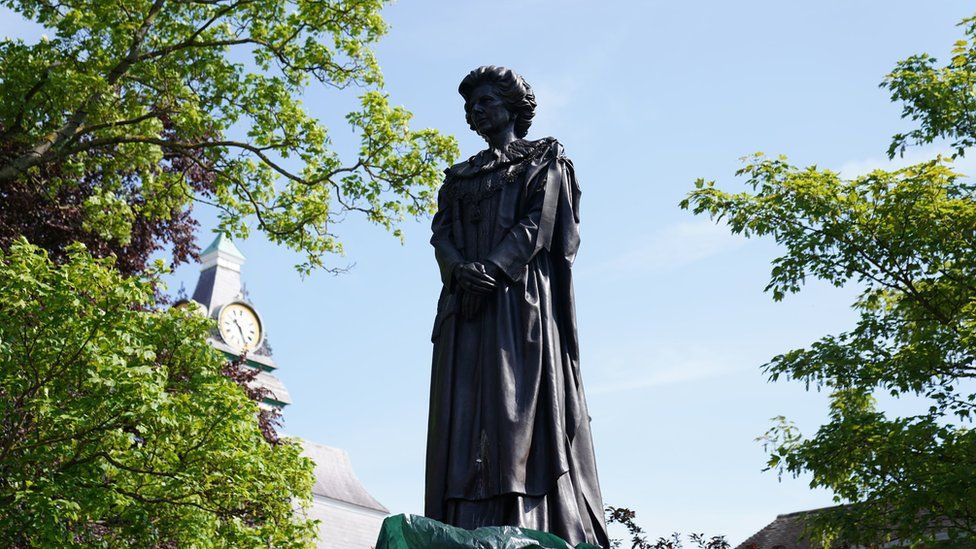 A university has said it "does not condone defacement" after a staff member was accused of egging a statue of Margaret Thatcher in Grantham.
Jeremy Webster, deputy director at the University of Leicester's Attenborough Arts Centre, is alleged to have thrown eggs shortly after its installation.
Three were thrown at the monument on Sunday morning, with one hitting it.
A university spokesperson said the matter was being addressed "in line with the university's own procedures".
The BBC has attempted to contact Mr Webster for comment.
Kerry Law, chief marketing and engagement officer at the university, said: "The University of Leicester has a long-standing history of supporting art, fostering creativity and protecting creative freedom.
"It does not condone any form of defacement and takes any act of defacement extremely seriously.
"This matter will be addressed in line with the university's own procedures."
Lincolnshire Police said no arrests had been made, but the force did receive a report of criminal damage to the statue of the former Prime Minister who died in April 2013, aged 87.
Officers attended the scene on Sunday, and egg residue and a piece of shell could be seen on the statue's lower half.
The statue had been lowered into place atop a 10ft (3m) high plinth under CCTV surveillance to minimise the risk of vandalism.
Reacting to the egging, Mrs Thatcher's daughter, Carol, who lives outside the UK, said she had not seen the sculpture but remarked that it was "not a good time to be a statue anywhere these days, it seems".
Meanwhile, Neil Kinnock, who led the Labour party between 1983 and 1992 and who regularly faced Mrs Thatcher in the Commons during that time, condemned the egging, adding: "The statue should be respected, full stop."
However, a planned £100,000 unveiling ceremony in 2020 attracted criticism - and when one Facebook group proposed an "egg-throwing contest", more than 13,000 people expressed interest.
The taxpayer-funded unveiling was later abandoned by the council and an official ceremony, funded through donations, is still to take place at a later date.
Installed without ceremony on Sunday, the statue towers over St Peter's Hill Green - close to the site of the grocers shop once owned by Baroness Thatcher's family.
In Grantham on Monday, one woman, who did not want to give her name, told the Local Democracy Reporting Service (LDRS): "I can see it's going to get damaged because people didn't like Margaret Thatcher.
"But, like all politicians, she did a lot of good and some not so good - not a lot different from today."
One man, who also did not wish to be named, told the LDRS: "I didn't expect it to be here as long as it has been."
Councillors in Grantham who are opposed to the statue have also spoken out.
Independent councillor Charmaine Morgan said the timing of the unveiling "could not be more insensitive".
"As the architect of the cost of living crisis, housing crisis and NHS crisis, her policies led to the sale of our national utilities, the sale of council homes without replacing them and the introduction of the internal market - fragmenting and paving the way for the privatisation and demise of our NHS," she said.
Related Internet Links
The BBC is not responsible for the content of external sites.