'Iconic' red telephone box in Lincoln on market for £6k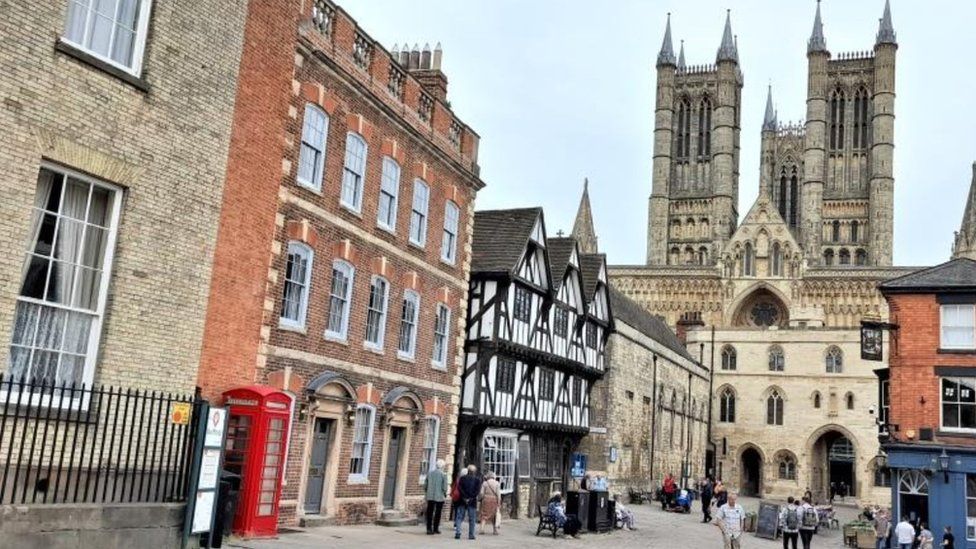 A red telephone box described as an "iconic piece of British heritage" is for sale at an estimate of £6,000.
The K6 red phone box became known as the Jubilee Kiosk because it was designed in honour of the Silver Jubilee of King George V.
The tiny property - just over 8ft high (2.4m) and 3ft square (0.9m) - is located in a "prime tourist spot" next to Lincoln Cathedral.
Many have been turned into libraries, defibrillator stations or coffee shops.
The boxes were originally designed in 1935 by Sir Giles Gilbert Scott, who also designed Liverpool's Anglican Cathedral, Battersea Power Station and Bankside Power Station now known as Tate Modern.
They are one of Britain's most recognisable pieces of industrial design
Around 60,000 were installed around the country between 1936 and 1968
Some 3,200 K6 telephone kiosks are protected by Historic England as iconic national objects
The Lincoln listing states potential buyers would be able to run their own business from it or use it for advertising.
It adds that the electricity is connected in the phone box and the kiosk is being repainted.
Property expert Tim Bannister, from Rightmove, said: "Over the years many of these iconic red telephone boxes have been transformed into businesses such as coffee shops, libraries and even miniature art galleries.
"We've seen a couple of them come up for auction over the last few months across Britain but it's definitely one of our more unusual property listings."
The phone box will be sold in an online auction on 29 June.
Related Internet Links
The BBC is not responsible for the content of external sites.