Wainfleet flooding: Homes remain evacuated until Friday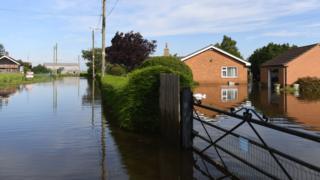 People evacuated from their homes in a flooded Lincolnshire town may not be able to return until Friday.
More than 580 homes in and around Wainfleet were evacuated after heavy rains led to the River Steeping bursting its banks on Wednesday.
Residents still in their homes have been told to avoid using toilets, showers and washing machines due to a strain on the sewerage system.
Pumps are being used to try to reduce the water level.
The equivalent of about two months' rain fell in two days, forcing 1,000 people out of their homes - about half the population - and flooding nearly 130 properties in the town.
Environment Minister Therese Coffey, answering criticism that more should have been done to prevent the flooding, claimed the rainfall last week was unprecedented.
She said it was important to "look at what went wrong and what can be done to remedy it in the future".
The Environment Agency said it was "on the ground pumping water away" and had "shifted 225 Olympic-sized swimming pools' worth of water" overnight.
It said river levels in the area were "slowly dropping", but two flood warnings remain in place for the River Steeping.
The agency has also responded to speculation that badgers were to blame for the river bursting its banks.
"The breach in this flood bank was not caused by badgers," a spokesperson said.
"The banks were put under extraordinary pressure because of the extreme amount of rainfall - more than twice the monthly average in only a couple of days."
Badgers are routinely moved and action is taken to prevent them burrowing back into the banks, the spokesperson added.
Further rain is expected on Tuesday and Wednesday, which could lead to delays with residents returning to their homes, meteorologist Dean Hall said.
"We are keeping an eye on it as there could be some issues with surface water and flooding," he said.
Tamara Lowndes, who lives in Wainfleet, described the situation as "really frightening".
"I've lived here 44 years and I've never ever seen anything like this," she said.
"It really has been like a freak accident. It's not something I want to see again.
"My 16-year-old son was wading through [water] taking sandbags and it was coming up to his waist on Thursday."
Ms Lowndes said she and her family had been helping fellow residents and flood victims with relief efforts.
"The community have been incredible.
"We've had people from the surrounding areas bringing in food, donating money. It really has been incredible.
"Hopefully we'll get Wainfleet back."
Derek Driver, 76, said he and his wife had "lost everything on the ground floor" of their house when it was flooded.
"The water started trickling in, and then it came in much faster. We started moving things on top of higher surfaces," he said.
"We couldn't manage to take anything heavy upstairs."
He said the couple have been staying in a hotel with their dog, where they could remain "until maybe next week".
"We're worried because we're not insured," he added. "We couldn't get it because we are on a flood plain."
Steve Nichols, who runs Lincolnshire Wildlife Park in nearby Friskney, said a parrot died when the site became flooded.
"We had a surge that came through the park," he said.
"For whatever reason she decided to go in to one of the low boxes and sadly - I think it was a mixture of the cold and the shock and everything that - she just passed away."
Lincolnshire Police issued an advisory notice limiting the use of toilets, showers, dishwashers and washing machines.
They said people may have to stay away from their homes until the end of the week.
In total, six flood warnings are in place for England, mostly in the west and north-east Midlands.
---
Have you been evacuated from your home? Email haveyoursay@bbc.co.uk
Please include a contact number if you are willing to speak to a BBC journalist. You can also contact us in the following ways: