Lincoln Girl Gang: Thousands join women's walk safe group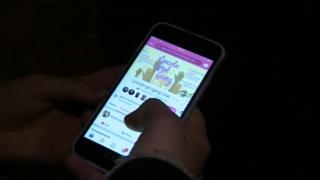 More than 2,600 women have signed up to a Facebook group that allows them to get together with another member so they do not have to walk home alone.
Lincoln Girl Gang was created last month by university student Amber Marshall after she was verbally abused in the street.
"Myself, and so many of my friends have had so many issues walking home alone in terms of harassment," she said.
She said the group enabled users to find someone walking the same way.
Ms Marshall said she was prompted to start the group after an unpleasant encounter with a man in the street.
"Outside the New Theatre Royal I got approached by a man who asked me for change - I said no because I didn't have any and he then asked me if I wanted to have sex with him," she said.
"He was shouting obscenities and it really scared me, and from that point on I was so wary about walking alone at night."
Other women have reported similar experiences, including Rebecca Ford who said she was followed by a man.
Another user said: "I was walking at night with a friend, a man crossed over and started walking really close, shouting at us in a different language; his friends were on the other side of the street shouting and making cat noises."
Ms Marshall said the aim of the group was to promote safety but stressed anyone who feels threatened should contact police.
New joiners to the group are vetted "to make sure they are who they say they are", she added.
Lincolnshire Police said the force supported the idea but added that Lincoln was generally a safe place to enjoy a night out.