Woman who stole £130,000 from her employer has assets seized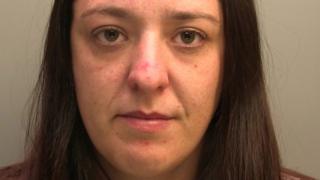 A finance worker who stole more than £130,000 from her employer has had her assets confiscated.
Claire Johnston, 34, who was diagnosed "compulsive buying disorder", spent the money on luxury holidays and designer shoes.
She was jailed for 20 months in October after admitting fraud.
Appearing earlier at Lincoln Crown Court via a video link from prison, she was ordered to hand over her available assets of £14,551.
The amount was made up of items including her pension fund, a car, a Tiffany ring and two watches.
Johnston, of Bradley Drive, Grantham, was given three months to pay or face a further eight months in jail.
Judge John Pini QC ordered that her available assets should be confiscated and given to her former employer, Grantham-based BGB Engineering Ltd, as compensation.
Previously, the court heard Johnston used the cash to pay for her wedding in Mexico and trips to Cyprus and Florida.
She also spent £5,000 on a weekend in London and bought shoes by designer labels such as Valentino and Christian Louboutin.
The company, which employs 130 people, subsequently reclaimed £100,000 of the losses through insurance.
Johnston admitted fraud between 9 September 2014 and 22 February 2018.