Nearly one million cans of beer seized in Grantham raid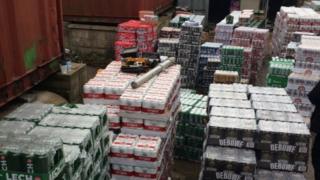 Police have seized more than 900,000 cans of beer from a storage container at an industrial estate in Lincolnshire.
The stash was found on the Alma Park Industrial Estate in Grantham, along with spirits and wine and 200,000 counterfeit cigarettes.
Sergeant Kim Enderby, from Lincolnshire Police, said the amount of alcohol seized was "mindboggling".
It took officers 17 hours to count and remove the haul, he added.
"The retail value of the alcohol seized runs into the hundreds of thousands, and those involved in this enterprise have also evaded paying thousands of pounds in duty."
He said investigations were now looking at stores in Grantham that were believed to have bought and then sold the items.
"Any identified could ultimately lose their licence to sell alcohol," he said.
The raid took place on 27 November following a tip-off from a member of the public.
According to the force, it was largest ever single seizure of alcohol in the county.
Trading Standards said operations on this scale made it difficult for legitimate businesses to compete and survive.