Boston Pilgrim Hospital roof jump man wins £3m damages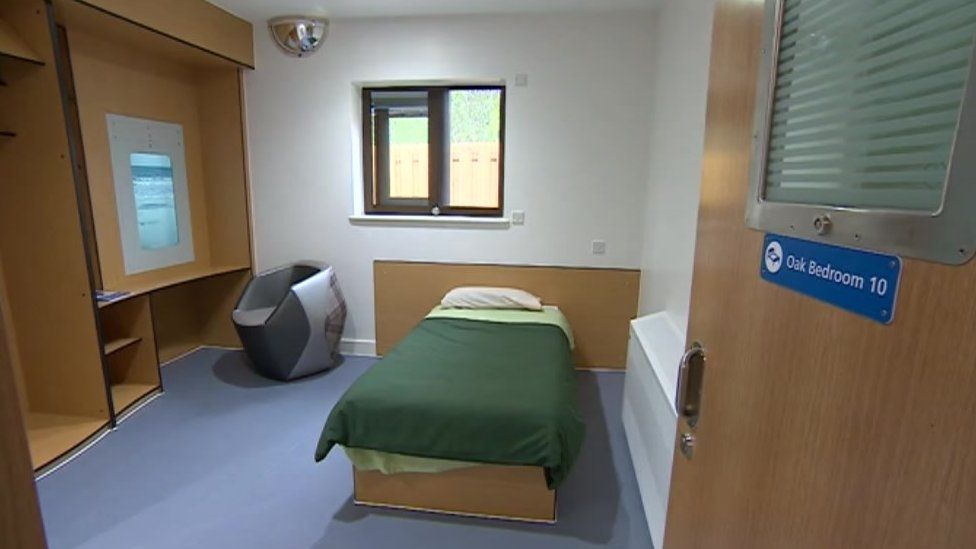 A mental health patient who jumped from a hospital roof after breaking free from his carers has been awarded compensation.
The man, aged in his 20s at the time, was being escorted by two carers into the garden of Boston's Pilgrim Hospital when he got on to the roof.
He was awarded £3m at the High Court after suffering brain damage and spinal injuries, leaving him in a wheelchair.
The NHS admitted it should have done more to protect him, the court heard.
The patient, who cannot be named for legal reasons, was being taken out for a cigarette when he broke away from carers.
He climbed onto a low wall to the top of a smoking shelter, then onto the roof before jumping, despite desperate attempts to try to talk him down.
The court heard he was deeply agitated and distressed when he was committed to the hospital under the Mental Health Act.
His barrister John Foy QC said he was experiencing hallucinations and had heard voices in his head ordering him to "kill, kill, kill". He was also self-harming.
The court was told the patient had twice climbed on to the hospital roof previously.
On top of the £3m lump sum, the man, now in his 30s, will also receive a tax-free annual care payment of £165,000 for the rest of his life, which is index-linked and will rise to £180,000-a-year when he is in his 50s.
In court, the Lincolnshire Partnership NHS Foundation Trust admitted 80% liability for his injuries and accepted he should never have been given the opportunity to climb on to the roof.
Alexander Hutton QC, representing the trust, said it was "extremely sorry".
Judge Derek Sweeting QC added the man had received "incredibly impressive" and "exemplary" support from a friend who helped him take his case to court.
Following the settlement, the trust added: "Immediately following the incident the trust removed the structure that allowed the patient access to the roof.
"Patient safety remains of paramount importance and our robust risk assessment processes help us to ensure the safety of patients whilst in our care."
Related Internet Links
The BBC is not responsible for the content of external sites.