Grantham woman stole £130,000 to fund wedding and luxury holidays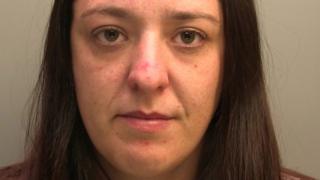 A finance worker who stole more than £130,000 from her employer to fund her "lavish lifestyle" has been jailed.
Lincoln Crown Court heard Claire Johnston, who worked for BGB Engineering in Grantham, used the money to pay for her wedding in Mexico.
The stolen cash also financed luxury holidays abroad as well as designer goods, the court was told.
The 34-year-old, of Bradley Drive, Grantham, admitted fraud and was jailed for 20 months.
The court heard Johnston, who has since been diagnosed as having a psychological condition known as compulsive buying disorder, spent £5,000 on a weekend in London and bought shoes by designer labels such as Valentino and Christian Louboutin.
She also paid for two holidays in Las Vegas, the wedding in Mexico and trips to Cyprus and Florida between 9 September 2014 and 22 February 2018.
Mark Watson, prosecuting, said the fraud was uncovered earlier this year when Johnston took time off work.
"Investigations revealed she had been illicitly transferring money into her own accounts," he said.
"The total she took over a period of three-and-a-half-years reached £132,435."
Judge Simon Hirst said: "This was an abuse of trust over a sustained period. There was an element of sophistication.
"It resulted in a lavish lifestyle. The only appropriate punishment is immediate custody."
The company, which employs 130 people, subsequently reclaimed £100,000 of the losses through insurance, the court was told.
Johnston will face a hearing at a later date to consider confiscation of her available assets.