Storm Callum halts 2,000-mile swimmer Ross Edgley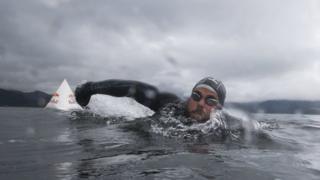 A man attempting to complete a 2,000-mile swim around Britain is stuck in Grimsby because of Storm Callum.
Ross Edgley, 32, is docked due to the storm, which has brought 70mph winds to some parts of the UK.
"The storm has come in so we are just having to wait it out in Grimsby right now," said Mr Edgley who is from Grantham in Lincolnshire.
The swimmer is 132 days into his challenge and has not set foot on land since starting in Margate, Kent.
Mr Edgley was due to begin the Lincolnshire leg of his challenge, swimming to Skegness, but is now holed up on his boat in Grimsby fish docks.
"At the moment it's a bit windy," he said.
"So, it's kind of playing hide and seek with the storm and as soon as it lets its guard down we will be back out there."
Earlier this week, Mr Edgley tweeted to say he was looking forward to being back in his home county.
"It's my birthday tomorrow so we are celebrating here in Grimsby," he said.
"I've heard the fish and chips are good."
Under the rules of the challenge, the swimmer is not allowed to step foot on land so he says he is hoping someone might bring a cake along to his boat.
Despite the hold up, he said he still hopes to finish his challenge in Margate by the end of October or start of November.