Man killed in Lincolnshire paraglider crash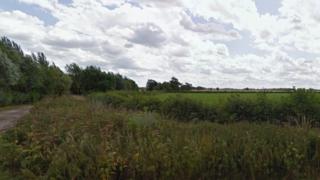 A man was killed when his paraglider crashed in a field, police have said.
It happened on Sunday afternoon, at Sandhayes Lane, Atterby Carr, near Bishop Norton, Lincolnshire
Lincolnshire Police said paramedics attended the scene but the 54-year-old man, who has not been named, died as a result of his injuries.
Police have just released details of the crash and said the man's family had been informed. They are not treating it as suspicious.
Local resident Mike Ashton said: "We saw what they call a paramotor - which is basically a parachute canopy with a motor attached to the occupant.
"He was very low over the fields and was beyond the hedge at times skipping along almost touching the ground."
The next thing he saw was the air ambulance flying overhead, he said.
The Air Accident Investigation Branch said it had been notified and had passed the matter to the British Hang Gliding and Paragliding Association to investigate.