'Suspect device' on Lincoln bus was water pump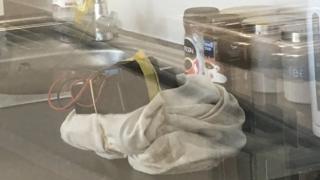 Police have released a picture of a water pump found on a bus which resulted in the Army bomb disposal team being called in.
Scores of people were evacuated shortly after midday on Tuesday when the device was found by a bus driver at Lincoln Central Bus Station.
Lincolnshire Police said an assessment was made to treat the package "as a viable device".
Police said it was not a hoax but a "genuine mistake".
Chief Constable Bill Skelly said: "It is important that incidents of this nature are treated as a credible threat.
"As can be seen by the photograph of the suspect device, the bus operators definitely made the right decision to report the package, which led to the evacuation."
"The safety of the public would always remain our priority," he added.
Following the incident, police said it was not a hoax but a "genuine mistake" and the person who left the bag had come forward to apologise.
The incident caused wide-spread disruption in the city, with road closures and cancellations on the rail network.