Lincolnshire County Council to stick with Serco despite 'pay errors'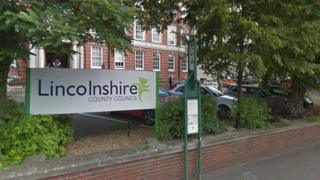 A council has recommended extending the contract of its payroll and HR services provider despite it being fined £2m for poor performance.
Lincolnshire County Council is three years into a five-year contract with Serco worth £70m to deliver IT, finance and HR and other services.
It wants to extend the contract until 2022 as Serco was meeting targets.
Serco was twice fined £1m by the council after errors, including numerous blunders in paying staff.
In one case a school employee was almost paid £1.5m in wages after an error by the firm.
Errors also led to a school phone line being cut and, in one case, sanitary facilities repossessed.
Earlier this year, the authority recommended awarding the contract to Hoople, which currently provides services for Herefordshire Council, Wye Valley NHS Trust and Rutland Council.
However, council leader Martin Hill said Serco was now performing well.
"Serco are now meeting the performance targets we have set for them, and are overall offering a good service. For them to continue providing these services when the current contract is due to end, still represents good value for money."
He added that the contract extension would also avoid extra costs for major IT projects already under way.
Serco's Mark Bennett, who manages the contract in Lincolnshire, said: "Following the initial challenges, which we all recognise existed at the beginning of the contract, our people have worked extremely hard and are passionate and proud of the services they provide.
"We now believe that our performance is in line with the council's expectations and we are confident we can go forward and continue to offer value to the residents of Lincolnshire."
The recommendations will be discussed on 27 September before a final decision on 2 October.