Dambusters pilot Les Knight honoured by Dutch village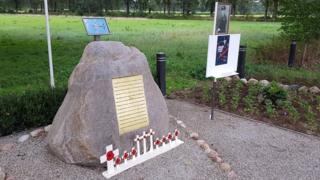 A memorial service has been held to commemorate a pilot who saved his seven-man crew and a Dutch village during World War Two.
Flt Lt Les Knight was killed during a Dambusters raid on Germany in 1943.
After his Lancaster bomber was badly damaged he is said to have steered the aircraft away from Den Ham, in the Netherlands, before crashing outside the village.
The service was held in Den Ham to mark the 75th anniversary of his death.
Flt Lt Knight was a member of 617 Squadron, based at RAF Scampton in Lincolnshire, and had been awarded the Distinguished Service Order for his bravery during raids on three German dams four months earlier.
The 22-year-old Australian was taking part in another raid on 16 September 1943 when his low-flying aircraft hit a tree.
He told his crew to bail out and flew his aircraft away from Den Ham, saving its inhabitants, said Melvin Chambers, who organised the memorial service.
"We regard Les Knight as a saviour of our village," he said.
"The local villagers actually hid five of Knight's crew and helped them get back safely to England.
"We're very fortunate to have traced family members of some of the crew. They are in the village right now and it's the first time they've been together since Les Knight sacrificed his life."
Only one of the crew members is still alive.
Canadian Fred Sutherland flew with Knight on both Dambuster missions, but he was unable to attend because he was "too fragile to travel", said Mr Chambers.
Earlier this year a portrait of Mr Sutherland, painted by Welsh artist Dan Llywelyn Hall, who painted a portrait of the Queen in 2013, went on display as part of an exhibition marking the 75th anniversary of the Dambusters air raids.