Fire breaks out at Mid UK Recycling plant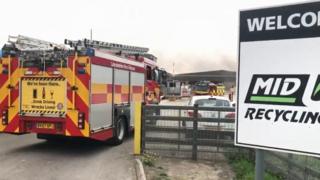 Fire crews are tackling a blaze at a waste recycling plant in Lincolnshire.
The fire broke out at the Mid UK Recycling site in Barkston Heath, Acaster, just before 01:30 BST.
Lincolnshire Fire and Rescue Service has declared it a major incident and several nearby roads have been closed.
A statement from Mid UK Recycling Ltd said it believed the fire had been caused by a lithium battery which may have been put in the household waste rather than being recycled.
It said: "The fire was contained within our materials recycling facility. No stored waste materials were affected and, due to the fire breaks we have in place, the fire did not spread to any other units."
More news from around Lincolnshire
The statement went on to apologise to any nearby residents who may have been affected by the smoke from the blaze.
Earlier this year, the company was prosecuted by Lincolnshire County Council and the Environment Agency for operating illegal waste storage, which led to a serious fire in June 2015.
It was fined £100,000 and ordered to pay £280,000 costs for breaching planning and environmental legislation.
The cause of the fire was spontaneous combustion due to the long period of storage, the quantity and the nature of the waste.
The fire service has used drones and thermal imaging cameras to find hotspots in this latest fire.
A spokesman said the blaze could continue to burn throughout the weekend and crews were expected to be on scene for several days.
High Dyke has been closed at Londonthorpe Lane, as has Ancaster crossroads.