Gainsborough councillor was drugs supply gang member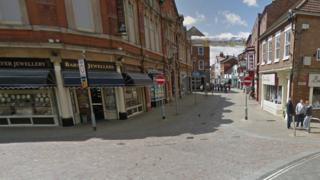 A member of a gang found guilty of conspiracy to supply cocaine and heroin is a town councillor, it has emerged.
Sharon Hopkinson, 45, who also ran the White Hart Hotel in Gainsborough, was involved in a large-scale drugs operation run from a Lincoln property.
She, along with three other people, were convicted at Nottingham Crown Court on Tuesday.
A spokesperson for Gainsborough Town Council confirmed she was a serving member.
Lincolnshire Police said the conspiracy centred around a property on Bailgate in Lincoln, which was used to prepare "significant quantities of Class A drugs".
Large quantities of heroin and cocaine were found.
Officers also discovered cutting agents, a hydraulic press and heat sealing equipment, which detectives said were used to bulk out the drugs to maximise profits.
'Sophisticated operation'
The offences took place between April 2015 and July 2016.
"This was a sophisticated operation, with all parties entering into an agreement to play their part in the distribution of Class A drugs," Insp Jo Fortune said.
According to local news reports, the White Hart Hotel had its alcohol licence revoked in May 2016 while Hopkinson was in charge over concerns about drug use on the premises.
Those convicted on Tuesday were:
Norman Foreshaw, 39, of White Hart Hotel, Gainsborough
Roger Bayes, 48, of Keddington Avenue, Lincoln
James Hewitson, 36, of High Street, Leadenham
Sharon Hopkinson, 45, of White Hart Hotel, Gainsborough
Four other people admitted conspiracy to supply drugs before or during the trial.
They are all due to be sentenced at a later date.