Crows flock to Cow Paddle pitches looking for grubs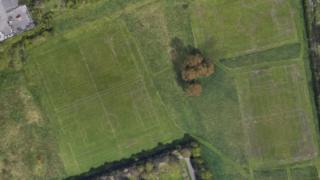 Four football pitches have had to be closed down as crows tear up the grass in search of tiny grubs to feed on in the soil.
Sunday League teams using the pitches on the Cow Paddle in Lincoln will either have to find other venues or cancel their games.
Lincoln and District Sunday Football League said an infestation of chafer grubs was at the root of the problem.
The city council which owns the pitches said "control was extremely difficult".
More stories across Lincolnshire here
League spokesman Ian Stephenson said the grubs were eating the roots of the grass and ruining the pitches, but also attracting birds which then ripped up the surface.
Chafer grubs are the soil-dwelling larvae of chafer beetles. Several species that feed on the roots of grasses can cause problems in lawns.
Mr Stephenson said: "It's a massive problem with season due to start on Sunday.
"The chafer grubs are in the soil so you first notice brown patches. Then the birds come along as nature's way of dealing with the problem and you're left with one heck of a mess.
"It doesn't look as if anything can be done, because it's a three-year cycle. It looks as if something's dragged all the grass back with thousands of birds pecking away at them."