Lincolnshire PCC criticises apprenticeship no-shows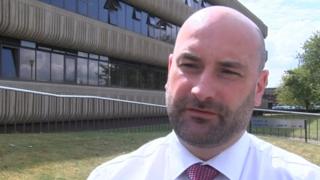 A police and crime commissioner said he was disappointed a number of candidates failed to turn up for interviews for an apprenticeship in his office.
Marc Jones PCC for Lincolnshire said the scheme was designed for young people to "help develop them for Lincolnshire".
The successful candidate for the one-year position would be paid £185 per week.
Mr Jones said the role was created by removing a senior post.
More on this and other Lincolnshire stories
Speaking on Twitter, the commissioner said those who did not turn up missed a "valuable interview experience".
"We had some great applicants come forward, which is wonderful to see," said Mr Jones.
"Then we get to the interviews and you get several people not turn up".
"It is indicative of the way we educate children and we need to make sure that we build in to them how important it is to develop those skills around employment."
About apprenticeships
Apprenticeships combine practical training in a job with study
Candidates need to be aged 16 or over
Available to anyone not in full-time education
Pay rate is £3.70 per hour for those under 19
People aged over 19 who have completed a year of their apprenticeship are entitled to the National Minimum Wage
Source: Department for Education