Rooney gang slavery victim has theft conviction quashed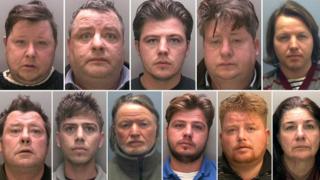 A man held as a slave for 26 years who was fined for a crime he was forced to commit by his captors has had his conviction quashed.
Eleven members of the Rooney family were jailed for modern slavery offences at Nottingham Crown Court in September.
The victim, who cannot be named for legal reasons, was convicted in 2012 at Leeds Magistrates Court of stealing metal from a nightclub in 2011.
The Ministry of Justice confirmed the court had cancelled his conviction.
His sister, who feared her brother's conviction may have prevented him from claiming criminal compensation, said she was "delighted" by the news.
"I hope this leads to all victims' crimes being checked as part of their survivors package of care to avoid victims going through unnecessary stress", she said.
Following the 2015 Modern Day Slavery Act, enslaved victims who commit a crime can have their convictions quashed.
However, the offence by the Rooneys' victim was committed before the act came into force.
On one occasion, he was made to dig his own grave and sign a contract agreeing to a lifetime of servitude.
According to the National Crime Agency (NCA), he was arrested and charged for burglary with intent to steal from Brummells Night Club in Leeds in October 2011.
He was given a two-year conditional discharge and fined £165 in his absence. He is waiting for a decision from the courts on compensation.
The victim, who has learning difficulties, was one of 18 men kept in squalid conditions in caravans and made to work for little or no wages.
Meanwhile the Rooney gang lived lives of lavish luxury, Lincolnshire Police said.
Slaves were beaten and left without running water or toilet facilities at the Drinsey Nook site in Lincolnshire.
Police began operations against the Rooney gang in September 2014.
The victims were all described as vulnerable adults, aged between 18 and 63, who were often homeless, and had been picked up by the family from across the UK.