Nathan Hunt death: Battlefield experience took toll on mental health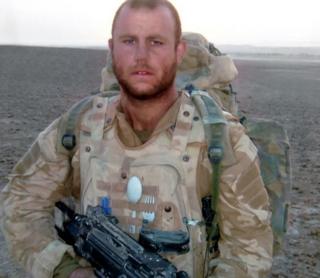 A soldier was found hanged after suffering nightmares from his experiences dealing with Taliban bombs in Afghanistan, an inquest heard.
Warrant Officer Nathan Hunt, 39, was found at his Lincoln home on 2 January.
An inquest into his death at Lincoln Coroners' Court heard the father-of-one had been diagnosed with mental health issues linked to combat stress.
He had attributed nightmares and sleeplessness to events during his service, it heard.
Mr Hunt served with Prince Harry in Helmand Province in Afghanistan in 2008 after being attached to the Household Calvary.
He was part of a desert reconnaissance unit involved in identifying roadside bombs planted by the Taliban.
Army records showed Mr Hunt suffered with "dark moods" but his widow Lainey Hunt said her husband's mental condition worsened after he witnessed a vehicle being blown up.
"From 2008 to the day he died Nathan suffered," she told the inquest.
"I do believe Nathan wanted to end the nightmares and decided to end his life that night."
'Sleeplessness and nightmares'
He had also consumed a significant level of alcohol, the inquest heard.
Passing a narrative verdict, Coroner Paul Smith said: "It is clear Nathan had been suffering from sleeplessness and nightmares."
However, he said he could not be sure beyond doubt he had intended to take his own life.
Speaking afterwards his father Derek Hunt, who was himself a career soldier, said he was not happy with the verdict.
He said: "We believe our son killed himself because he had PTSD [post-traumatic stress disorder].
"You don't tie a ligature and drink alcohol unless that is your intention."