'Love Island' thongs not welcome at family pool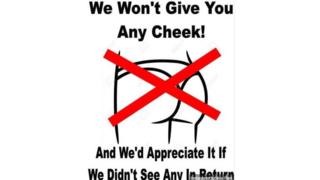 A family-friendly pool has blamed Love Island for a rise in swimmers sporting skimpy thong-style swimwear.
Staff at Jubilee Park, Lincolnshire, have asked customers to stop wearing "thongs or see-through" garments.
Manager Joe Stanhope said the yearly phenomenon, which coincides with the raunchy ITV2 broadcast, has even been dubbed the "Love Island effect".
Despite some criticism, he said the intention was to raise awareness of the policy and avoid awkward situations.
More stories from Lincolnshire
Love Island is known for its cast of photogenic sorts who are usually seen sunning themselves in tropical climes while not wearing very much.
And the fashions often seen - or rather, not seen - on the popular show appear to have influenced bathers closer to home, according to Mr Stanhope.
"We've had a number or people in the last couple of weeks wearing thongs or swimwear that hasn't really been family-friendly," he said.
"String probably just about covers it.
'Keep it PG'
"We had to have a very polite conversation that it wasn't appropriate".
He added: "There's nothing offensive about thongs, they just aren't deemed in this country to be family-friendly".
A since-deleted post on the outdoor pool's Instagram account said: "A reminder about our swimwear policy.
"We're fully aware it's OK to wear thongs on Love Island, but not in a family-friendly facility like ours.
"Family friendly swimwear only.
"No thongs or see-through swimwear.
"Please keep it PG."
'Just your bum cheeks'
The post drew a number of replies, with some supporting the pool's staff, while others were more salty in their response.
"I've got the common sense to dress in something respectful for children to be able to see, but some people don't think about what they're wearing," one said.
"Should my three-year-old be seeing a skimpy thong? I don't think so."
Others said the ban was "awful".
"People should be able to wear what they want," one wrote. "But I've not got kids so maybe that's why I think differently."
Another said: "It's just your bum cheeks innit?!"
You may also like: