The English question: What does it mean to be English?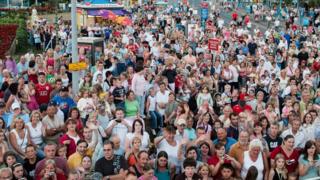 In a survey by YouGov for the BBC, 70% of respondents in Boston, Lincolnshire, said they identified very strongly as English.
This compares with 54% of people surveyed across the whole country.
Other areas of the county also scored highly, including traditional seaside towns like Skegness and Mablethorpe.
But what does being English actually mean to people in Lincolnshire - parts of which recorded the highest leave vote in the EU referendum.
David Wilson, the proprietor of Churches Restaurant and Coffee Shop in Boston, said to him Englishness is all about "fair play".
"That's what it means to me - you follow the rules and respect everybody else," he said.
"I think we are quite good at that."
"Over the centuries, we have welcomed lots of people into the country and we are very much a multi-cultural society now," he added.
"Wherever you are from, or what religion you are doesn't really matter - being English is all about fair play."
Michelle, who is originally from Kent, said she was proud to be English.
She summed up what it meant to her as being "community spirit and people getting together".
She said local events such as food fairs helped to facilitate this.
Lettings agent Tristan Gilbert said: "Being English is being able to uphold the values of free speech, democracy, fair play and just generally being good and respectful to other people.
"I am proud to be English but I don't have that great sense of patriotism.
"I'm more a global citizen and think that is the modern way to view the world now."
John Byford, who is an artist and photographer based in Skegness, said people should be proud to identify as English.
"We should be proud of our roots - just as the Scottish, Welsh and people in other European countries are," he said.
He said for him the golden age of Englishness was during the 1960s when the country led the way in the fashion and music industries.
"People were also proud to buy goods made in England," he added.
Mr Byford said the homogenisation of cities and towns, not just in Britain, but across Europe, meant it was becoming harder for people to have a distinct identity.
However, he said there was still much for the English to be proud of.