Helicopter to be made into holiday pad at RAF Wainfleet site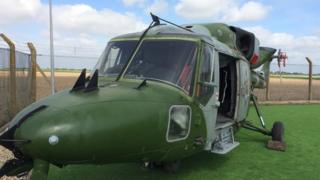 Work has started on converting an old Westland Lynx helicopter into holiday accommodation.
The aircraft is on the site of the former RAF Wainfleet bombing range in Lincolnshire, which was used throughout World War Two.
A control tower on the site - built in 1975 - has already been converted into holiday lets.
Owner Will Roughton, who is a local farmer, said he hoped the unusual accommodation would appeal to children.
Read more on this and other stories from Lincolnshire
Earlier this year, the British Army bid farewell to its remaining Lynx helicopters with a commemorative flight.
They were decommissioned after almost 40 years in service.
Mr Roughton said he found an old helicopter for sale in Ipswich and thought it was a good idea to attempt to convert it into accommodation.
"It's mainly for the kids but I'm sure there will be some big adults like me who want to use it," he said.
Mr Roughton is currently stripping the helicopter and said once complete "we can then see what we can do with it".
He plans to leave the cockpit controls intact for visitors to play with and is hoping to have enough room for a bed and sofa, TV and mini fridge.
You may also like:
The RAF Wainfleet bombing range, which closed in 2009, opened to aircraft in 1938 and was used throughout World War Two.
Before then, it had been used by Army artillery regiments as far back as 1890.
It was used by 617 Squadron, known as the Dambusters, to test 11.5lb practice bombs at a height of 60ft to get the feel of targeting at such a low altitude.
They aimed between two scaffolding poles in the mud, as training leading up to the dams raid.