Woodhall Spa mustard gas clean-up 'will cost £100,000'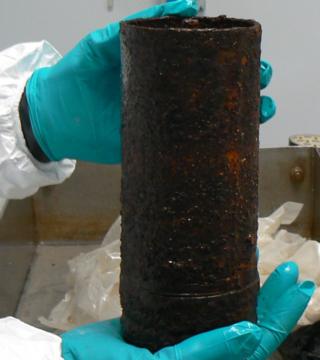 The cost of a major clean-up operation after 150 mustard gas canisters were found in woodland is likely to be about £100,000, it has been announced.
Porton Down specialists were brought in after the discovery near Woodhall Spa, Lincolnshire, on 1 October.
Two people suffered minor burns and three people, arrested on suspicion of possessing a noxious substance, remain under investigation.
The area was cordoned off after some of the mustard gas leaked into the soil.
Lt Col Andy McCombe, Armed Forces liaison officer for the East Midlands, said: "Obviously, our soldiers put the things in the ground, therefore we are responsible."
He said the cost of the clean-up operation would probably be in the region of £100,000.
Lt Col McCombe said the camp would have seen a lot of different battalions coming in and then moving on, and at the end of the war it was likely they gathered the mustard gas and other munitions together and buried them.
"They would have been keen to get home," he said, adding those responsible probably assumed the area - which is now a nature reserve - would continue to be a military camp.
He added that it was important to check that "nothing nasty" remained.
Also known as the Defence Science and Technology Laboratory, Porton Down has been working with the Ministry of Defence (MoD), Royal Navy and Army bomb disposal teams to remove the canisters, which were found in Roughton Moor Woods and Stixwould Lake.
Mustard gas was used as a weapon during World War One and outlawed by the Geneva Protocol of 1925.
Two people were treated in hospital for minor burns and respiratory problems when they unearthed the canisters while digging for vintage bottles in the woods.