Historical Lincolnshire postcard collection to be sold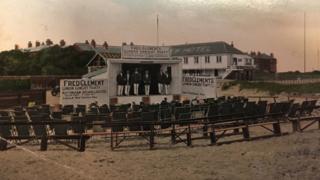 More than 16,000 postcards showing Lincolnshire and dating back to the Victorian era will be auctioned off.
The collection was amassed by the late David Robinson, who was a local historian, writer and lecturer.
The photographs date back to the 1890s and include hand-tinted colour images of places and events from across the county.
Louth-based auctioneers John Taylors said the collection is expected to sell for between £15,000 and £20,000.
More on this and other Lincolnshire stories
Auctioneer James Laverack said he thought it was the largest collection of historical Lincolnshire images ever put up for sale.
"They are all from around about the 1890s through to the first two or three of decades of the 20th Century," he said.
"I'm interested in Grimsby heritage, particularly the fishing industry, and it shows you what a prosperous and vibrant town Grimsby once was."
The collection has been divided up into 40 lots each containing roughly 150 to 1,000 postcards featuring a particular place or subject matter.
A number of Victorian history books and local newspapers from Mr Robinson's collection are also being auctioned.
Mr Robinson, who was also the former editor of the Lincolnshire Life magazine, died in June aged 89.
He built up the collection over a period of 60 years. The auction takes place on 22 May.