Gas disruption 'saves Lincolnshire family's lives'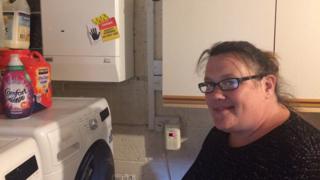 A family have said their lives were saved when a carbon monoxide leak was discovered by engineers sent to their village after gas supplies were cut.
The Cliffe family were among hundreds in Saxilby, Lincolnshire, disconnected after a network fault last week.
Technicians discovered the lethal gas leaking from a central heating boiler in the family's garage.
Mother Zoe Cliffe said the engineer told her if the heater had been in the house they "would have died".
More on this and other Lincolnshire stories
"When he started explaining, me as a mum burst into tears straightaway," she said.
"Because, you've got your children to think about, you've got yourself to think about."
The leak went unnoticed for a number of weeks, despite the family having a working carbon monoxide detector. Engineers said it failed to pick up the gas as it was "in the wrong position".
Ms Cliffe said the family went to the doctor after suffering "flu-like symptoms", including headaches and tiredness for a number of weeks.
"Since the gas has been turned off we haven't been poorly," said Ms Cliffe.
"Thank God the gas went off in Saxilby."