Scampton pub sign honours Dambusters pilot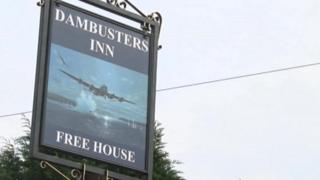 A pub next to the RAF station where the famous Dambusters squadron flew from has unveiled a new sign in honour of one of its pilots.
The sign, at the Dambusters Inn, Scampton, Lincolnshire, is part of the 75th anniversary commemorations of the well-known 1943 World War Two raid.
The operation saw RAF bombers break two German dams with "bouncing" bombs.
Artist Simon Atack painted it in tribute to Flt Lt John Vere Hopgood, who flew with "relentless courage".
Describing the picture, called Hopgood's Courageous Run, he said: "It depicts a beautiful moonlit night, based on accounts from German soldiers guarding the Möhne dam."
He said the aircraft was "badly crippled" and carrying injured crew after been hit over Holland.
Mr Atack said it once again came under "relentless enemy fire" having followed the first strike of the dam by Wing Cdr Guy Gibson.
Hopgood, who never returned from the night-time raid on three dams in the early hours of 17 May 1943, had received the Distinguished Flying Cross and Bar less than a year before.