Amy Coleman glassed Carl Benham in Skegness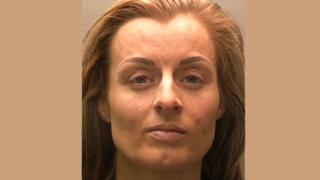 A pregnant woman due to give birth has been jailed for a glass attack that left a man blind in one eye.
Amy Coleman was convicted of glassing Carl Benham in the Marine Boathouse at Skegness on 25 February 2017.
Judge John Pini QC, passing a nine-year prison sentence at Lincoln Crown Court, said he was aware of the effect it would have on her children and her unborn child.
"There are no winners in this case, only losers," he told the court.
Coleman, 30, of Mel Marshall Way, Wrangle, is due to give birth on 25 May.
She pushed the beer glass into Mr Benham's face with such force that it exploded, the court was told.
Mr Benham later had to have his left eye removed, and his ongoing sight problems meant he lost his job as a seasonal worker and is unable to drive.
The court was told he continues to suffer headaches and is awaiting a further operation.
'Appalling'
Judge Pini said: "The tragic reality is that Mr Benham has suffered grievously and a substantial custodial sentence is a tragedy for your children."
"I bear in mind particularly the effect this sentence will have on your children and your as yet unborn child."
Coleman, who became pregnant while awaiting trial, was previously told she would not be sentenced until after she had given birth.
No explanation was offered in court as to why the hearing was brought forward.
David Eager, in mitigation, asked Judge Pini "to pass as merciful a sentence as you can".
"What she did that night was appalling but it was a single blow, it was out of character and it was an isolated incident," he said.