Boston driving instructor 'a tactile man' says wife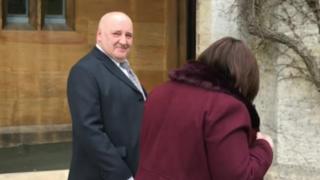 A driving instructor charged with sexual assault has voluntarily handed back his driving instructor's licence, a court has heard.
Keith Warner, 61 is alleged to have touched, kissed and sent inappropriate messages to young female pupils.
Mr Warner from Boston, Lincolnshire denies 11 charges of sexual assault against five different women.
Giving evidence for the defence, his wife Gillian Warner told the jury that her husband was a "tactile man".
More on this and other Lincolnshire stories
Mrs Warner said the pair had been married for 20 years.
She told the jury he would greet people with "a handshake, a pat on the back, a hug or maybe a kiss", whether they were male or female and regardless of age.
'Sexual thrill'
In his closing speech, counsel for the prosecution David Lee reminded the jury that one 17-year-old female complainant had described Mr Warner touching her thigh during her first driving lesson.
"What he did was, effectively, touch these young people in a sexual way which was not just tactile over-friendliness," he said.
"He behaved in this way towards people he had a fancy for and he got a sexual thrill out of what he did."
For the defence, Unyime Davies told the jury that in order to convict Mr Warner they must be absolutely sure that his conduct was sexually motivated.
"You may think Mr Warner's behaviour was unprofessional, inappropriate and overly 'touchy-feely', but that's not the same as being sexual, is it?" said Ms Davies.
"At no point did he have a sexual intention towards any of those complainants."
The case at Lincoln Crown Court continues.