Photo of Jesse James bought on eBay 'authentic', owner says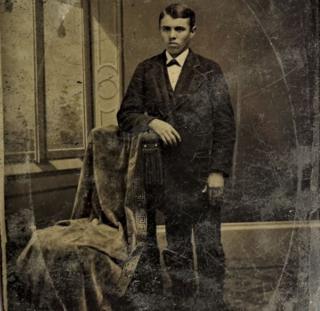 The owner of a photo said to be of Wild West outlaw Jesse James has spoken out after a newspaper article said it was of someone else.
Justin Whiting, 45, bought the tintype image on eBay and noticed a similarity between the boy in the picture and a photo of Jesse James in a book.
He consulted experts who said it was a genuine portrait of the bank robber, possibly worth £2m.
But an article in The Telegraph claims there were too many facial differences.
Mr Whiting, from Spalding, bought the tintype - an early form of photography in which an image is produced on a thin sheet of tin - on eBay for just £7.
He decided to have it analysed and Will Dunniway, a 19th Century photography expert from California, concluded the photo was taken between 1861 to 1862.
In a report he said: "It is very evident by the face, hair cut, jacket, shirt and tie that this is the same image of Jesse James at 14 years old. One of the originals."
Mr Whiting also sent the image to forensic expert Kent Gibson in Los Angeles who also confirmed its authenticity.
However, according to the Telegraph article, British expert Mark Bampton found a number of facial differences between the person in Mr Whiting's photo and the outlaw.
It said the boy in Mr Whiting's photograph had a much thicker bottom lip than that of James, as well as a shorter neck.
"This has caused me a massive problem as I'm looking to get someone to buy it," Mr Whiting said.
He is now looking for an independent forensic expert in the UK to examine the photograph.
---
An outlaw's life
Born Jesse Woodson James in Kearney, Missouri in 1847
He joined Quantrill's Raiders at 16
His first bank robbery attempt was a failure
He killed an engineer during his first train robbery
On April 3, 1882, he was shot and killed by one of his gang who hoped to collect a reward
---