River Witham fish death toll 'higher than 100,000'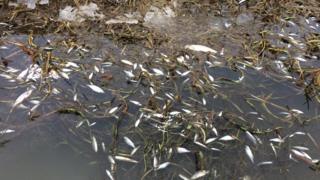 The number of fish killed in a polluted river may be "several times higher" than 100,000, the Environment Agency has said.
High levels of ammonia were detected in the River Witham, between Woodhall Spa and Lincoln, after thousands of fish were found dead in March.
It also "severely impacted the river's ecosystem" including fish food sources.
The agency said it could not disclose the source of the pollutant as it would "prejudice" its investigation.
In a statement, the agency said: "According to our latest estimates, the pollution that occurred in the River Witham in March has caused the death of no fewer than 100,000 fish. The exact figure is likely to be higher and could be several times this."
It said it took the incident "very seriously" and would be looking "to prosecute those who negligently damage our precious environment and wildlife".
"We will also be doing everything we can to ensure that the river's ecosystem is restored," the agency added.