Gas supply in 1,800 Saxilby properties being restored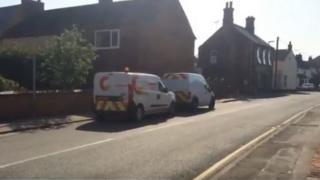 Gas supplies are being reconnected in a Lincolnshire village where 1,800 properties lost their supply.
Customers in Saxilby, near Lincoln, were left without gas following a network fault on Saturday evening, said Cadent Gas Limited.
The firm said about 50 engineers were working in the village to turn the gas back on in what it described as a "major operation".
But it could take several days for all the houses to have supplies restored.
Anthony Quarell, for Cadent, said virtually every property had been visited to ensure the gas was off and work had restarted on Sunday to reconnect supplies.
He described it as "very time-consuming" and said "as many of those as possible" would have gas restored by the end of the day.
However, resident Chris Hewis said it might be Wednesday before his supply is back on.
He tweeted that he had been asked by a gas engineer if he was "OK for heating" - despite the temperature outside being 26C (79F).
Mr Quarrell asked villagers who had not yet been reconnected to remain at home for engineers to get into the property.
A help centre has been set up in the village hall.