Boston driving instructor 'professional' says ex pupil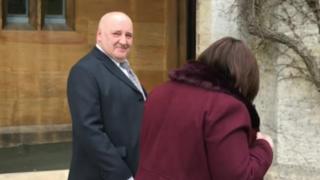 A driving instructor accused of sexually assaulting five women was described as "very professional" by a former pupil.
Keith Warner, 61, from Boston, Lincolnshire, denies 11 counts of sexual assault between January 2015 and April 2017.
The woman told Lincoln Crown Court that Mr Warner had never made her feel uncomfortable during lessons.
She was one of three former students giving evidence in Mr Warner's defence.
The witness told the jury that he was "very patient with me".
'Patient and encouraging'
Another woman said Mr Warner had hugged her at the end of lessons and when she passed her test.
She was asked: "Did you think there was anything wrong with him hugging you?"
She replied, "No". The woman added that Mr Warner had never touched or kissed her, or made her feel uncomfortable and that she had even recommended him to a friend.
A third witness described Mr Warner as "cheerful, well-mannered, patient and encouraging".
'I'm just a flirt'
The court also heard transcripts from police interviews with Mr Warner during which he admitted hugging a couple of former students, but denied he was being sexual or inappropriate.
He also admitted exchanging flirty messages with a former student.
Mr Warner told the police he thought the flirting was mutual.
"She's married, I'm married. I'm just a flirt," he told officers.
The trial continues.