Boston driving instructor 'offered kisses' to woman learner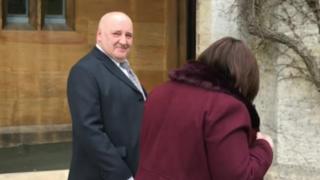 A driving instructor told a pupil he would give her a kiss if she got a theory test question right, a court has heard.
The woman told a jury at Lincoln Crown Court that Keith Warner had visited her home to help her prepare for the exam.
She said he also put his arm around her.
Mr Warner, 61, from Boston, Lincolnshire, denies 11 counts of sexual assault on five women between January 2015 and April 2017.
More on this and other Lincolnshire stories
She told the jury everything was "perfectly fine" on Mr Warner's first two visits to her home but on the third occasion he put his arm around her.
The woman admitted she could not remember everything about the meeting but told the jury Mr Warner said to her: "If you get the question right, I'll give you a kiss."
She said he also asked what her husband would think if he found him with his arm around her.
When asked how long his arm was around her the woman replied "about ten to fifteen minutes."
The woman said she eventually moved further away from him after turning her body.
'Flirtatious'
She said Mr Warner also gave her a "lingering" kiss on the cheek when he left her home and later sent her inappropriate messages on Facebook.
Under cross-examination the woman admitted Mr Warner had told her that he could be "flirtatious" when she met him with her mother to agree the meetings at her home.
The woman confirmed she also told him about where she worked and her upcoming wedding.
The trial continues.