Sleaford woman, 95, dies after flooded road fall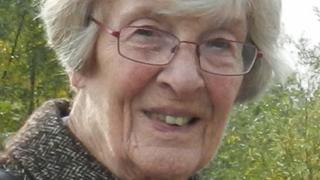 Police investigating the death of a 95-year-old woman are looking into claims she was splashed with water by a passing vehicle.
Hilda Moore fell to the ground near the junction with Bonner Close and Mareham Lane in Sleaford, Lincolnshire, on Friday afternoon.
She was taken to Lincoln County Hospital after sustaining head injuries and later died.
The force has said it is not clear what caused her to fall.
More stories from Lincolnshire
A Lincolnshire Police spokesperson said: "One of the lines of inquiry is looking into if she was splashed by water as she was on the path."
Her son-in-law Peter Wheeldon said on Monday that the road she was walking along had been flooded before the fall.
Officers have asked for anyone with information to come forward.