Boston driving instructor 'inappropriately touched and kissed pupils'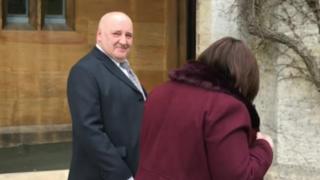 A driving instructor inappropriately touched and kissed young women and had "sexualised conversations" with them while having lessons, a court heard.
Keith Warner, 61, from Boston, Lincolnshire, is charged with 11 counts of sexual assault on five women between January 2015 and April 2017.
At Lincoln Crown Court, the prosecution claimed Mr Warner took advantage of the women and also sent them inappropriate messages.
Mr Warner denies all the charges.
The jury were told by prosecutor David Lee that police received a complaint about inappropriate touching and comments in December 2016.
Police alerted the Driver and Vehicle Standards Agency (DVSA) which launched an inquiry during which five women came forward with complaints against Mr Warner.
'Sexualised conversations'
Mr Lee told the court a 19-year-old woman said Mr Warner kissed her left arm while driving and stroked her left thigh and tried to hug her.
She told police Mr Warner had a series of "sexualised conversations" with her, including telling her "I like to look in your beautiful eyes" and "Why don't you put kisses at the end of your text messages?"
The prosecution said another woman claimed Mr Warner inappropriately touched and hugged her while giving her driving theory lessons at home.
When she stopped the lessons, he sent her inappropriate messages on Facebook. Her husband reported it to the DVSA after she told him.
Another pupil, who took more than 70 lessons with Mr Warner, claimed he put his hand on her thigh and squeezed against her, as well as kissing her.
Allegations by another student came to light when she confided in a new driving instructor.
She only had one lesson with Mr Warner and claimed he repeatedly ran his hand up and down her thigh and persisted in asking for a cuddle.
The trial continues.