Joseph Rooney jailed for 11 years for modern slavery offences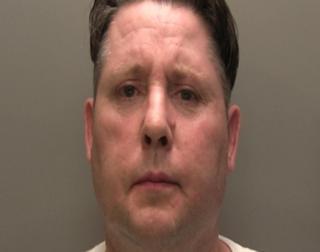 The twelfth member of a family convicted of modern slavery offences has been jailed for 11 years.
Joseph Rooney, 45, from Washingborough, Lincolnshire, targeted victims who were homeless or alcoholics to work in the family driveway resurfacing business.
Leicester Crown Court heard workers were kept in squalor, fed on scraps and forced to work for £10 a day.
He was convicted on one count of conspiracy to require persons to perform forced or compulsory labour.
Rooney was also convicted of two counts of causing actually bodily harm in relation to offences which took place between 2010 and 2014.
A 55-year-old homeless man, who was living in a tent in Lincoln, previously told the court how Joseph Rooney had approached him and offered to take him for a bath at the traveller site, on the outskirts of Lincoln.
After two weeks he tried to escape and return to his tent, but was caught by Rooney and members of his family two miles away.
He told the court he was too scared to make any further attempts to escape after he witnessed another man being beaten for the same thing.
Rooney had claimed that anyone "was free to leave at anytime".
Asked about living conditions, he told the court: "You're not coming to Buckingham Palace - life is very hard for everyone."
The court also heard how Rooney did "not like to see food wasted" and shared leftover pizza or takeaways with anyone who wanted it.
The case was part of Lincolnshire Police's Operation Pottery, one of the largest investigations of its kind.
'Filthy caravan'
Speaking after the case, Ch Supt Nikki Mayo said one victim who tried to leave was told he would have his legs broken if he did it again.
She said Rooney controlled his bank account and he was fed once a day and given a daily allowance of £10, plus a bottle of cider.
He was also physically assaulted on numerous occasions, and when he said he wanted to kill himself due to his treatment Rooney offered to get him a rope, she added.
On one occasion, he was taken to Scotland and shared "a dilapidated and filthy caravan" with an alcohol-dependant worker.
Ch Supt Mayo said the man started drinking screen wash after his alcohol was withdrawn and the victim woke up one morning to find his companion dead.
Eleven other members of Rooney's family were convicted in September.
The 10 men and one woman were all involved in the family driveway business which kept workers in caravans without running water or toilet facilities.
Their victims, all described as vulnerable adults aged between 18 and 63, worked long hours to fund a "lavish lifestyle".